ITW B128 MSDS(Material Safety Data Sheet)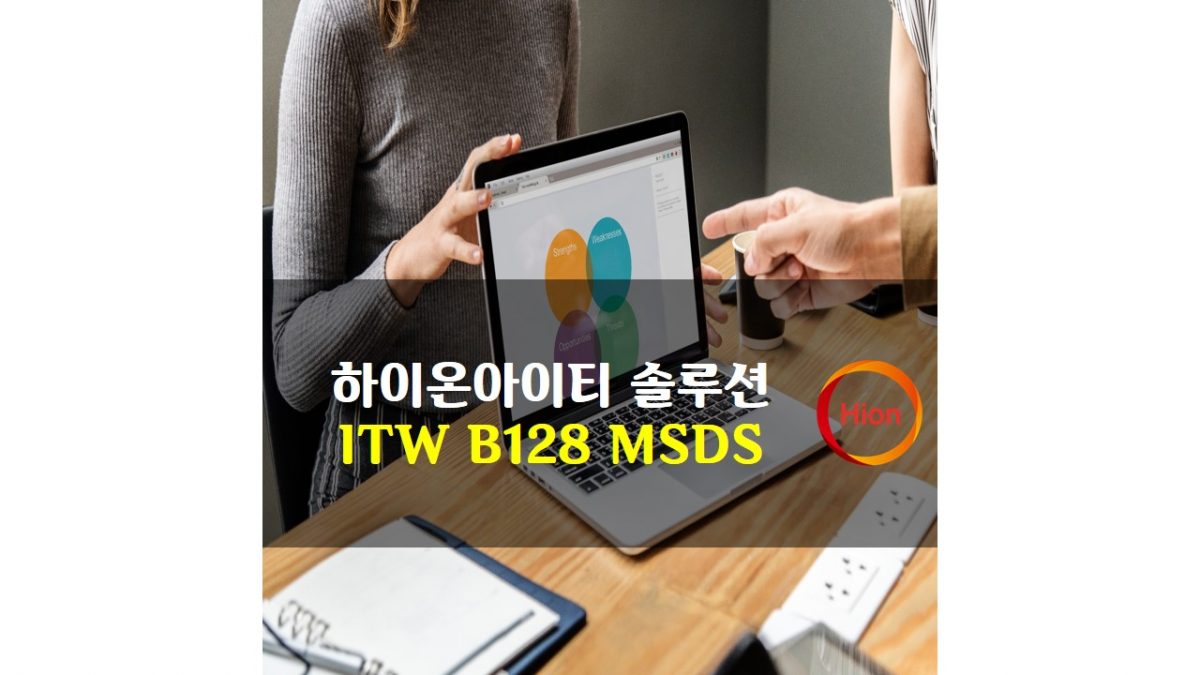 SAFETY DATE SHEET

ITW Specialty Films
#460 Chonhung-Ri, Songgo-Ub,Chonan-City Chungchongnam-Do, Korea
Tel : 82-417-559-4150
Fax : 82-417-567-0882

1. PRODUCT NAME : B128

2. COMPOSITION / INFORMATION ON INGREDIENTS
GENERAL DESCRIPTION OF CHEMICAL CHARACTER :
Thermal Transfer Ribbon with heat transferable coatings
- Chemical characteristics PET Carrier
- Wax
- Carbon Black
- Resin & etc
HAZARDOUS INGREDIENTS / CAS NO. / RISK PHRASES
None / Not Applicable / Not Applicable

3. HAZARDS IDENTIFICATION
RISKS FOR HUMAN HEALTH :
This product is relatively innocuous substance and is not expected to cause harm.
Mechanical irritation of the eyes, nose and throat may occur if slitting.
Suggest 10mg/Cu.M for inert or nuisance particulate if debris is generated during slitting, etc.
ENVIRONMENTAL RISKS : No data available

4. FIRST AID MEASURES
SKIN : If irritations are felt after contact with skin, wash with plenty of mild soap and water.
EYES : In case of contact with eyes, rinse immediately with plenty of water for at least 15 minutes and seek medical advice.
INGESTION : If swallowed, get medical attention

5. FIRE FIGHTING MEASURES
EXTINGUISHING MEDIA : Foam, Dry Powder, CO2, Water
UNUSUAL FIRE AND EXPLOSION HAZARD :
In case of fire do not breath fumes.
Particular risk arising from theproducts/products of combustion/generated gases : carbon mono-oxide, carbon dioxide.
PROTECTIVE EQUIPMENT : Breathing apparatus should be worn.

6. ACCIDENTAL RELEASE MEASURES
Not Applicable

7. HANDLING & STORAGE
HANDLING :
Wash throughly after handling and before eating or smoking.
Eye protection is recommended if ribbon is being slit or cut.
Use adequate ventilation - nuisance particles are being generated.
STORAGE :
Store in air atmosphere, sheltered from light and at temperature below 40 degrees C.
Avoid proximity of flame and heat sources.
Store 24 hours in room temperature before slitting.

8. EXPOSURE CONTROLS / PERSONAL PROTECTION
TECHNICAL PROTECTION MEASURES : This product will slowly photo degrade with UV light exposure, shelter from light.
PERSONAL PROTECTIVE EQUIPMENT : Goggle for eye protection and particle mask for nose and throat protection during slitting process.

9. PHYSICAL & CHEMICAL PROPERTIES
FORM : Ink coated film.
COLOR : Black
ODOR : Little or no odor
CHANGE IN PHYSICAL : Not Applicable
MELTING POINT/MELTING LANGE ;
- Ink : 70 +,-5 degrees C
- Film : 256~265 degrees C
BOLING POINT/RANGE : Not Applicable
FLASH POINTS : >150 degrees C
IGNITION TEMPERATURE : Not Applicable
DANGER OF EXPLOSION : Not Applicable
EXPLOSION LIMIT : Not Applicable
VAPOR PRESSURE : Not Applicable
SOLUBILITY : Not Applicable
PH-VALUE : Not Applicable
VISCOSITY : Not Applicable

10. STABILITY AND REACTIVITY
STABILITY : Stable
HAZARDOUS DECOMPOSITION PRODUCTS : Terephthalic acid, CO and aldehyde above 300 degrees C

11. TOXICOLOGICAL INFORMATION
HEALTH EFFECTS : None known
ACUTE TOXICITY : Not tested
Other Information:
This product has been formulated to ensure that it complies with EN-71, part 3: that is that the foil will contain levels below those listed below.
This legislation concerns itself with the action of specific heavy metals under certain human conditions.
The limits for which are listed here :
Lead / Pb / 90ppm
Cadmium / Cd / 75ppm
Chromium / Cr / 60ppm
Arsenic / As / 25ppm
Antimony / Sb / 60ppm
Mercury / Hg / 60ppm
Barium / Ba / 500ppm
Selenium / Se / 500ppm

12. ECOLOGICAL INFORMATION
AQUATIC TOXICITY : Not Available
BIODEGRADABILITY : Not Available
EFFECT ON EFFLUENT TREATMENT : Not Available

13. DISPOSAL CONSIDERATION
DISPOSAL DEFINITION : Scrap film from slitting, ribbon after printing barcode.
WASTE DISPOSAL : Disposal in accordance with local state and federal regulations.

14. TRANSPORT INFORMATION
No special

15. REGULATORY INFORMATION
No special.

16. OTHER INFORMATION
No liability is accepted for any injury, loss damage or cost arising directly or indirectly from the use of any information contained within this MSDS since the customer's treatment of the product is necessarily out of our control.

The data complied above is based on current knowledge and experience.
The purpose of this Safety Data Information is to describe the products in terms of their safety requirements.
The data does not signify any warranty with regard to the products workability.
hion
· 2019-05-29 11:54 · 조회 4348