DNP TR4085Plus MSDS(Material Safety Data Sheet)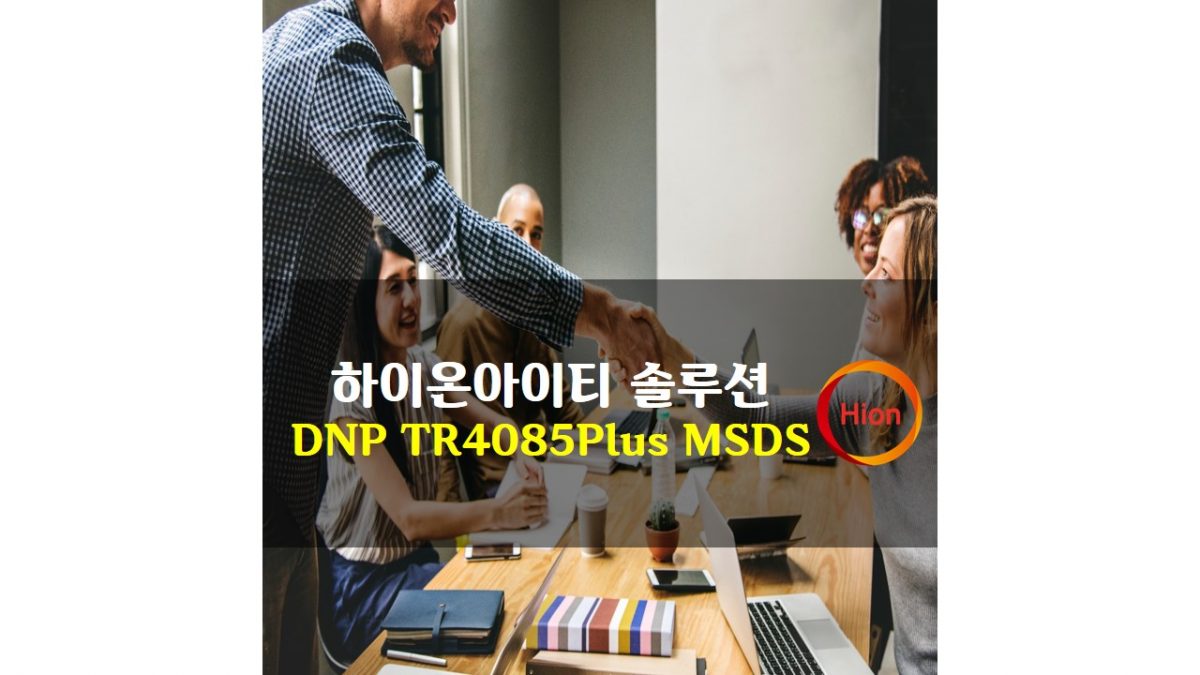 MATERIAL SAFETY DATA SHEET

1. CHEMICAL PRODUCT & COMPANY IDENTIFICATION
Product Name : TR4085 Plus
Company name : DNP IMS America Corporation
Address : 1001 Technology Drive, Mt. Pleasant, PA 15666
Telephone : +1 724-696-7500
Emergency Telephone : N/A
Fax : +1 724-696-8925
Intended Purpose : Thermal Transfer Ribbon

2. HAZARD IDENTIFICATION
GHS CLASSIFICATION OF THE SUBSTANCE OR MIXTURE
PHYSICAL HAZARDS:Not applicable
HEALTH HAZARDS
Carcinogenicity : Not classified
ENVIRONMENTAL HAZARDS:Not applicable
GHS LABEL ELEMENTS INCLUDING PRECAUTIONARY STATEMENTS
SYMBOL:Not applicable
SIGNAL WORD:Not applicable
HAZARD STATEMENT:
Carbon black was identified as an IARC 2B (possible human) carcinogen in 1996.
This classification was made due to results of inhalation testing.
Dermal and oral testing did not yield evidence of tumors during these tests.
When used under normal and recommended conditions, the carbon black in this application will not be air born and subject to inhalation.
This product should therefore present a minimal risk to personal health.
PRECAUTIONARY STATEMENTS:
- Do not handle until all safety precautions have been read and understood.
- Use only outdoors or in well-ventilated area.
- Do not eat, drink or smoke when using this product.
- Do not use near fire.
- Wear protective gloves/clothing and respiratory protection.
- Wash hands thoroughly after handling.

3. Composition/Information on Ingredients
Substance/Mixture: Mixture
Thermal Transfer Ribbon
Component / Weight % (about) / CAS-Reg. No.
Polyethylene terephthalate film / 63% - 73% / 25038-59-9
Thermal transfer ink
- Polymeric Resin / 9% - 12% / Trade Secret
- Carbon Black / 4% - 7% / 1333-86-4
- Carnauba Wax / 9% - 11% / 8015-86-9
- Wax / 5% - 7% / Trade Secret
HAZARDOUS INGREDIENTS : NONE

4. FIRST AID MEASURES
IF INHALED
- Move victim to fresh air and keep at rest in a position comfortable for breathing.
- If symptoms continue or worsen, seek medical attention.
IF IN EYES
- Immediately rinse with fresh water for several minutes.
- If eye irritation persists, seek medical attention.
IF ON SKIN
- This product is generally not skin sensitive, however, if irritation occurs rinse the area with soap and water.
- If irritation persists, seek medical attention.
IF SWALLOWED
- If choking, remove obstruction from passageway and seek immediate medical attention.
- If material is swallowed, get immediate medical attention. Do not induce vomiting unless instructed by medical personnel.

5. FIRE-FIGHTING MEASURES
Extinguishing Media : CO2, Water, Dry Chemicals, Foam
Special Fire fighting Procedures : For large quantities (i.e. truckload or pallet), firefighters should wear self-contained breathing apparatus and protective clothing.
Fire and Explosion Hazards : The product is not classified as flammable, but will burn if involved in a fire, forming smoke with toxic fumes, gases and vapors.

6. ACCIDENTAL RELEASE MEASURES
Personal Precautions : For large-scale spills involving dye or ribbon, ensure personal protection is worn (see Section 8).
Environmental Precautions : Do not release to sewer, surface water or ground water.
Method for Cleaning Up :
Vacuum or sweep up materials and place in a disposal container.
When sweeping, avoid raising dust.
If a vacuum is used, motor should be rated as dust tight, and be non-sparking.
Disposal should be subject to national, and local law.

7. HANDLING AND STORAGE
Handling : As supplied, this product is inert. Use protective clothing when this product is handled during excessive cutting or abrading.
Storage : Store in original container in dry location at temperatures between 5°C (41°F) and 40°C (104°F). Protect from sunlight.

8. Exposure controls/personal protection
Exposure Guidelines ;
EU : None
UK Occupational exposure limits (carbon black) : long-term exposure limit (8 h), 3.5mg/m3; short-term exposure limit (15 min), 7 mg/m3.
US (OSHA) TWA PEL = 3.5mg/ m3
ACGIH TWA TLV = 3.5mg/ m3
Engineering Controls : Good general ventilation is recommended.
DNEL(s) : Not available
PNEC(s) : Not available
Personal Protection Equipment(s) :
The need for personal protective equipment should be based on a workplace risk assessment for the particular use.
Gloves (e.g. nitrile or PVC) and eye protection are recommended if handling the ribbon directly.
Where more extensive contact may occur, wear suitable protective clothing (e.g. apron, sleeves, boots).
PPE should meet European (EN) standards.
Consult manufacturers concerning breakthrough times.
For the packaged ribbon, PPE is not usually required.

9. Physical and chemical properties
Property / Value / Units
Form : Solid
Colour : Black
Odor : Slight Wax odor.
pH value : N/A
Viscosity : N/A
Melting point : N/A / °C
Boiling point : 235°C (455°F) / °C
Ignition Temperature : N/A / °C
Flashpoint : N/A / °C
Explosion limits ;
- lower : N/A / Vol%
- upper : N/A / Vol%
Vapour pressure : N/A / hPa
Density : ~1.2 / g/cm3
Solubility in water : insoluble

10. Stability and reactivity
Conditions to be avoided : Conditions to avoid : heat and sunlight.
Substances to be avoided : Strong acids and strong oxidizing agents
Hazardous decomposition products : Thermal decomposition gives CO, CO2, NOX.
Further information : None

11. Toxicological information
Acute toxicity : No acute or chronic toxicological effects are expected.
Further toxicological information:
In 1996 the International Agency for Research on Cancer (IARC) reevaluated carbon black as a group 2B carcinogen (possible human carcinogen), based upon the development of lung tumors in rats receiving chronic inhalation exposures to free carbon black.
The effects were observed only in animals exposed to high concentrations of carbon black at levels that induce particle overload of the lung.
Studies performed in animal models other than rats have not demonstrated an association between carbon black and lung tumors.
Moreover, a two-year cancer bioassay using a typical toner preparation containing carbon black demonstrated no association between toner exposure and tumor development in rats.
Epidemiology studies of workers in the carbon black producing industries of North America and Western Europe do not demonstrate an association between carbon black and cancer, even in high exposure occupational settings.
In addition, in its reevaluation of carbon black, IARC concluded that "there is inadequate evidence in humans for the carcinogenicity of carbon black.
"Chronic over exposure to many dusts, including carbon black dust, may result in respiratory tract irritation and slight changes in lung function."

12. Ecological information
No information available.

13. Disposal considerations
As local regulations may vary, all waste must be disposed/recycled/reclaimed in accordance with federal, state and local environmental control regulations.

14. Transport information
Not classified as dangerous goods for transport.
No specific precautionary transport measures for safety reasons.
Storage conditions see item 7.

15. Regulatory information
Classification and labeling according to EC Directives
Classification : Not classified
Symbol and indication of danger : None
Risk phrases : None
Safety phrases : None
EU legislation ;
Dangerous Substances Directive (67/548/EEC)
Dangerous Preparations Directive (99/45/EC)
REACH Regulation (1907/2006)
Regulation (EC) No 1272/2008 on Classification, Labeling and Packaging of Substances and Mixtures
Chemical Agents Directive (98/24/EC)
Personal Protective Equipment (EC Directive) Regulations SI 1992/3139.
UK legislation ;
Control of Substances Hazardous to Health Regulations 2002.
Health and Safety at Work Act 1974 c 37.
Guidance ;
The Compilation of Safety Data Sheets (Third Edition) (CHIP 3 Approved Code of Practice).
COSHH Essentials: Easy steps to control chemicals; HSE Books 2003 (also available on the HSE web site).
Workplace Exposure Limits EH40.

16. Other information
References :
Annex VI of Regulation 1272/2008 on Harmonized Classification and Labeling for Certain Hazardous Substances.
Supplier safety data sheets.
Existing Chemical Substances Information System (ESIS) available at the European Chemical Bureau
website : http://ecb.jrc.ec.europa.eu/esis/.
This data is offered in good faith as typical values and not as a product specification.
No warranty, either expressed or implied, is made herein.
The recommended handling procedures are believed to be generally applicable.
However, each user should review these recommendations in the specific context of the intended use.
hion
· 2019-05-28 11:49 · 조회 3916